You can select how often you wish to receive our Daisycon Headlines. You can receive the newsletter as a news flash (only specific news), but also once a day or once a week. You can configure this in your account by clicking the user icon in the right top corner of the screen. 


After that you can click your email address and you are redirected to the personal information screen. Behind the third tab there are the newsletter frequency options.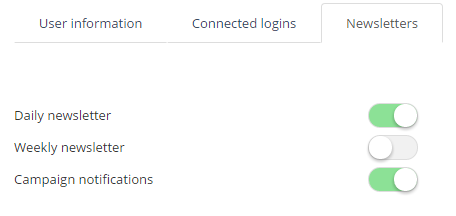 What can I do if I have any further questions?
If you have any other questions, please check our Frequently asked questions (FAQ) first. The questions are sorted by subject so you can find the answer quickly. If your question is not listed then you can submit a ticket and contact us.